Popular areas in Singapore where we offer home moving services
For home moving services, Our network is wide and we can serve any part of Singapore but here we mention some top listed areas and facilities of moving when you occupy or vacate your home.
Home Moving Services in Bedok
If you are looking to move your home in Bedok, then we are the one to give you the cheapest home moving services in Bedok Singapore. We have an experienced team who can reach your home in Bedok instantly and start helping you. Till date, we have completed more than 30 home moving services moving to, or moving away from Bedok. We are familiar with the car park, as well as the roads there and that can give us an advantage when we are moving for you.
Bedok is a mature residential town in the Tanah Merah geographical section of Singapore's East Region. Moving your home may be a big tension for both private residences and public housing buildings. In Bedok New Town, the HDB constructed approximately 58,000 dwellings. Because it is an older town, the bulk of the flats have three or four rooms. There are additionally 2,700 executive flats built by the HDB. It has a population of about 200,000 people. So if you are one of them, don't be stressed about warehousing storage space or moving your home from or to Bedok. We can help you shift your home! :)
Home Moving Services in Singapore Bukit Batok
Multi-Trans Events provides home moving services in Singapore Bukit Batok at highly reasonable costs. It is highly impossible for one to do this task alone. We, as a team of 20, are ready to help you with your home moving!
People choose Bukit Batok as their home area because it has a large number of Housing Development Board (HDB) flats, many of which are conveniently positioned near bus stops and have groceries and coffee shops right at their doorstep. The future Build-To-Order (BTO) flats are particularly noteworthy. But when the time comes for home moving, it is a big tension because of congested lanes and lobbies. Not to worry, just make a call and hire an experienced home moving company.
There are also numerous condominiums, both old and modern, of various sizes in the region. The Jade, conveniently positioned behind West Mall and almost next door to Bukit Batok MRT Station, is worth a look. Hillview Regency, Guilin View, and the forthcoming Natura @ Hillview are all equally appealing condominiums. So if you are planning to occupy or vacate in one of these apartments, please contact us. Till date, we have completed more than 50 cases to and fro Bukit Batok.
Home Moving Services in Singapore Bukit Merah
Home moving Services in Singapore Bukit Merah is now possible with Multi-Trans Events. People chose Bukit Merah area in Singapore because all need more spacious homes. There are many terrace houses and semi-detached houses available in this area, with more on the way in the coming years.
Bukit Merah is now predominantly a residential neighborhood, situated at a convenient distance from the Central Business District (CBD) and the Orchard Road Shopping Belt. Both are just approximately 15 minutes away! This location is ideal for young couples or families with family members working in the CBD, as housing options are mostly 4-room or 5-room HDB flats. But if you feel stressed of shifting your home in Bukit Merah, never forget to call us for better home moving services in Singapore.
Singapore Home Moving Services at Bukit Panjang
Our Singapore home moving services facilities are now available at Bukit Panjang. It is a town in the state of Singapore. The new town of Bukit Panjang is made up of a mix of old and new apartments and condominiums. People sometimes suffer from moving home. They feel angsty and are unsure about the quality of their home moving. Rest assured that our experienced home moving operations team will make you feel like a happy trip from your old house to your new one. We also keep your goods for temporary storage in our warehouse if additional time is required for the new than leaving the old place. If you need to know the cost to move your home, simply visit our webpage here - How Much Does Home Moving Cost in Singapore?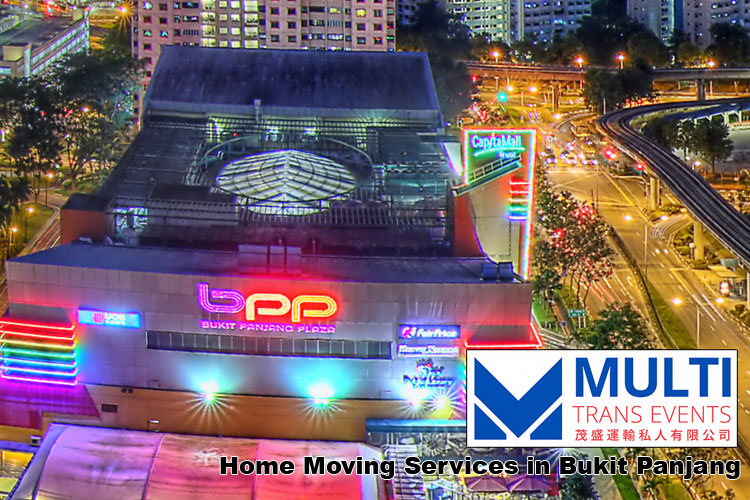 Bukit Timah Expressway, Dairy Farm Road, Bukit Timah Road, and Kranji Expressway form its boundaries. It's also close to the Central Catchment Nature Reserve, which is bounded by the BKE and KJE highways. It is easy to move your home in this area because it has great transportation links to the rest of Singapore. Contact Us today for Bukit Panjang Singapore home moving help!
Home Moving Services Company in Hougang
Staying in Hougang is a benefit for all residents because it is well connected to the rest of Singapore. We have launched our home moving services company in Hougang also to ease your tensions. We have our own trucks to carry all your goods from Hougang to any place in Singapore. but certain things you need to do personally before calling movers in Singapore. Major expressways, such as KJE and TPE, make it simple and convenient for drivers to go to any region of Singapore. Public transportation, such as the Hougang bus service and the Light Rail Transit system, is an effective mode of movement inside the new town as well as to nearby towns and cities.
Home Moving Tampines
Home moving in Tampines is not an easy job in between busy traffic and working progresses. People are engaged with their work and busiest schedule. Moving your home needs experience and a lot of time to process. Multi-Trans is happy to be a part of your work and making the best home move without a single effort of you. There are a lot of apartment blocks in Tampines town where we have satisfied customers who are offered with our home moving services to them. Singapore's urban planning policy is to create partially self-sufficient towns in terms of commercial needs in order to reduce traffic congestion in the city center. As a result, a variety of amenities are available to residents of the new towns. Anyway, call us any time to get all your home moving needs in Tampines.
Overall, wherever you are located in Singapore, we will come up with a professional team who pack your goods perfectly, load on our own truck van, move to your new place and unload carefully without causing you any alarm. Just make a call and hire us. :)
Read more about Top 10 home moving companies in Singapore!