The cost of moving usually depends on the companies you contract or the amount of belongings that is needed to be moved. There are plenty of companies in Singapore that provide home moving services. All it takes is a search, "home moving services company" or "home packers and movers" and tons of ads will show up.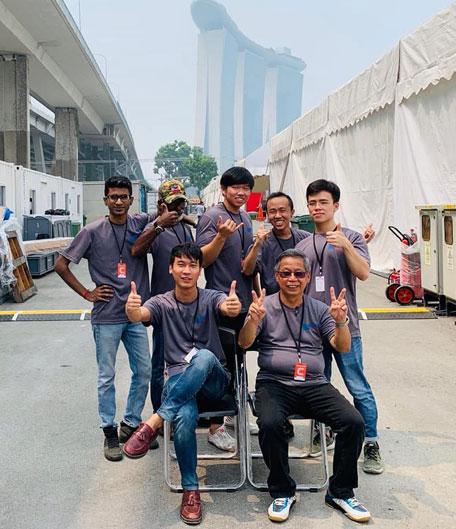 There is a reason why there are many companies who provide home moving services. It is not the easiest task to do by yourself. It requires meticulous planning and attention to be able to make sure that everything goes smoothly. Some of the things you need to do it personally before calling movers in Singapore like paying bills to local people, change of address and getting settlement for your existing landlords etc., and You may know what services these companies offer commonly, Anyway we are going to list a few for you,
Packing and taping up of boxes
Transporting of the boxes
Possible temporary storage
Loading and unloading of furniture
It is also possible to plan and relocate houses on your own, but there are more factors to weigh in. There is also more to do as you have lesser manpower as compared to when contracting home moving services in Singapore. That is why it is not recommended to move yourself and it is not wise to.
Commercial moving services is a team of professionals who help do the job of moving. They have been in the industry for years with a lot of experiences. They know the whole process and how it should work. They know what needs to be done to run things smoothly and efficiently. They can help to make sure that everything is in order.
When planning for a home move, it helps to have a clear understanding of the costs that is involved with the whole moving process. There are many costs involved with home moving that you have to take note of before contracting a home moving services. It is important to set a budget on how much you are willing to spend for the move. This is because relocating can be an expensive thing to do, so setting a budget will help keep you from overspending.
The total costs of moving will be solely based on the situation you are in. There are many things that can affect the costs of the service. For example, extra load of boxes, extra hours needed to transport the goods and more. So make sure that you contact the company properly and lay every information and costs out before hiring them.
Factors that affect your home moving costs
Size of your move - some companies tend to price their services by how much things are required to be moved.
Packing services - even though it may be convenient to ask the movers to pack for you, it may cost additional for them to help pack everything.
Moving supplies - unless you are able to find free moving supplies, you will have to buy them. This includes bubble wrap, boxes, markers, tape, etc.
Storage - if you are dealing with a complicated move, you may choose to have the moving company which has the facility to store your items at a warehouse temporarily. (Warehousing services available at Multi-Trans!)
In Singapore, the type of building you live in affects the cost as well. If you live in a Housing & Development Board (HDB) flat or condominium flat, the moving services has to follow the rules and regulations of the building. For example, they can only move and transport the boxes and furniture only at the allocated times the building gives you. Some buildings may also require you to help line up their lift walls or staircases walls with something to prevent scratching or dirtying it up.
A way to not spend as much is to pack your own belongings. When you pack your own belongings, the movers would not have to do anything else other than moving the boxes and furniture to the new place. The only con is that you have to make sure that you pack and label everything clearly because the moving company will not be liable to anything that happens to the boxes. You have to make sure that fragile items are wrapped properly and arranged in the box in a nice and neat manner. Properly labelling the boxes also helps to speed up the process of moving. This is because there will not be any mix up of boxes and the movers will know where to put each and every box.
Even though the cost of moving varies, you can still find good companies with low cost movers in Singapore. Sometimes you get what you pay for, meaning a decent price for decent service. However, if you do a lot of research, you will be able to find a decently priced but great service moving company who will be able to cater to your needs. Also you must aware of some home moving tips and techniques to prepare for safe and smooth move.
Typical Cost charged generally by Singapore Home Moving Services
No.
Description
Inclusives
Cost
1
HDB Home Moving
Includes 2 x Manpower
Includes 10 Footer Truck
$380
2
HDB Home Moving
Includes 4 x Manpower
Includes 14 Footer Truck
$640
3
HDB Home Moving
Includes 4 x Manpower
Includes 24 Footer Truck
$740
4
Landed Home Moving
Includes 2 x Manpower
Includes 10 Footer Truck
$480
5
Landed Home Moving
Includes 4 x Manpower
Includes 14 Footer Truck
$740
6
Landed Home Moving
Includes 4 x Manpower
Includes 24 Footer Truck
$1,000
It is not cheap contracting a home moving services company, it is best if you do your own research before reaching out them. You do not have to worry about not being able to find who is best in moving. Read our 2022 Latest research on Top 10 home moving services company . It is a big industry.